Kabul, capital of Afghanistan since 1776, is a fast growing city where tall modern buildings nuzzle against bustling bazaars, wide avenues are field with colorful flowing turbans, gaily striped chapans and a multitude of handsome faces.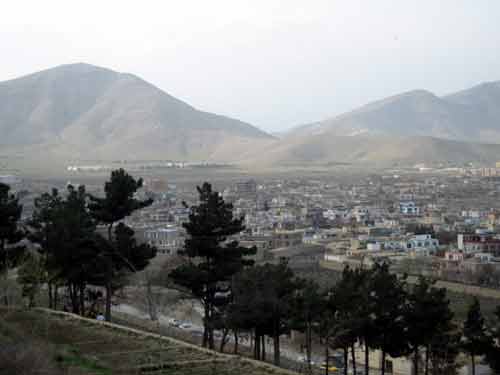 The city is ringed with mountains gleaming emerald green in spring and glistening white in winter. In summer, they have an ever changing beauty turning from deep purple to brilliant pink under the rising and setting sun. Two craggy ranges crowned with ancient bastions divide the city and the Kabul River flower through a narrow pass between them meander through the heart of the city. Travelers have written glowingly of Kabul for centuries and modern visitors continue to be captivated by it's charm.
MAJOR PLACES OF INTREST:
BALA HISAR: Rising above the plain, the citadel served for centuries as the seat of Afghanistan. It witnessed most of the exciting events of the country's history until 1880 when it was destroyed during the second anglo - Afghan War.
ARG (Palace): Amir Aburrahman (1880 - 1901) built this citadel to replace the Bala Hissar places. OLD CITY: The ancient wall of Kabul being at Bala Hissar. They are 7 meters high, 3 meters thick and assistance to the Hephthalite period(5th Century).
MAUSOLEUMS: The tomb of Timor Shah, son of Ahmad Shah Durrani, who moved the capital form Kandahar to Kabul, was built in 1817.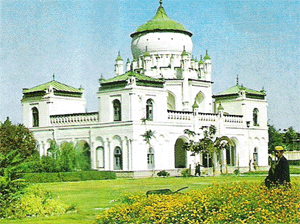 A charming landmark of the city is the mausoleum of Amir Abdur Rahman, one of Afghanistan's most dynamic rulers. It stands in Zarnegar Park, in the center of the city as a fine example of 19th Century architecture remaining in Kabul.
BAGHE BALA: A graceful, many domed palace glimmers on a hill to the north of the city. Built as a summer residence, it now houses a distinguished restaurant specializing in traditional Afghan Food.
BABUR'S GARDENS: Laid out by Babur, the founder of the Mogul Dynasty, in the middle of the 16th Century, the gardens include a summer pavilion added by Amir Abdur Rahman, a commemorative mosque built by Emperor Shah Jahan and the tomb of Babur himself. Babur died in Agra in 1530 but he so loved these gardens that he asked to be buried here, a wish was fulfilled by his Afghan wife "Bibi Mobaraka".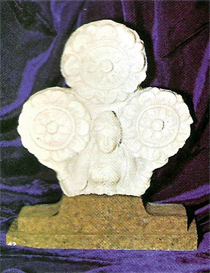 NATIONAL MUSEUM: Located in Darulaman, contains an impressive collection of artifacts illustrating Afghanistan's past from prehistory to modern times.
BAZARS: Kabul's many colorful bazaars attracting a large number of visitors for shopping and sightseeing.
MOSQUES: Kabul has many interesting mosques. The most famous ones in the center of the city are:
Masjide Pule Kheshti
Masjide Shahe du shamshira
Masjide Sherpur (Blue Mosque)
Masjide Eid Gah
Masjide Sayed Majnun Shah